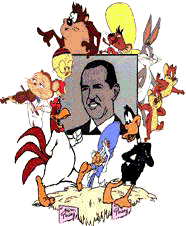 By Robert McKimson Jr.
Robert was born (September 27, 1910) in Colorado and had two brothers and two sisters. His father, a newspaper publisher in Colorado and Texas, eventually moved the family to Los Angeles in 1926. The boys were all natural born artists and could draw from the time they could pick up a pencil. The natural talent is attributed to their mother, who had artistic ability, although undeveloped.
All three brothers began their animation careers at an early age. Robert began with Walt Disney in 1928. Robert worked as an assistant for Dick Lundy.
In 1931, Robert went over to Harman-Ising cartoon studio as animator. At that time, the studio had an arrangement with Leon Schlesinger to release cartoons through Warner Bros. The major character was "Bosko" and Robert's first screen credit was "Bosko's Store", in 1932. In 1933 Schlesinger and Harman-Ising parted ways. Robert went with Schlesinger who opened up on the Sunset lot and went on to release through Warner Bros. Thus, from 1931 until the cartoon studio closed in 1963, Robert McKimson was the longest continual employee of the studio.
In 1932 Robert had an automobile accident that, for whatever reason, made him animate faster, up to eighty feet per week, and he could visualize animation. He was always fascinated with portraiture and anatomy and went to art school for many years to perfect his artistic ability. He became the principal model model-sheet maker for Warners, and in the mid 193 0's was named animation supervisor.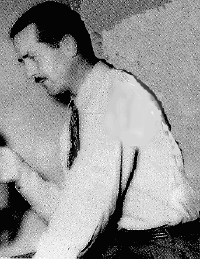 Robert McKimson, after animating over 50 cartoons for various directors, became himself a director at Warner Bros. Cartoons in 1944, replacing Frank Tashlin. His first release was "Dafi~' Doodles" and his first Bugs Bunny cartoon was "Acrobatty Bunny", both in 1946. Additionally, in 1946, his first Foghorn Leghorn cartoon, "Walky Talky Hawky", was nominated for an Academy Award. He was also nominated in 1957 for "Tabasco Road".
The Tasmanian Devil, Robert's most famous character, was almost put out of existence after the first cartoon. The character was created after Robert, a crossword puzzle fanatic, suggested creating a character based upon a Tasmanian Devil, a name appearing in the puzzles. Up to that time, the studio had been using characters usually modeled after rabbits, mice, cats, etc. He asked his animators, including brother Charles, to draw their version of the character. All of the versions looked somewhat similar. Robert took his version and the other drawings and put them into the model sheet of the character as we know him today. Thus, the first Tasmanian Devil cartoon "Devil May Hare". After it appeared, the studio manager, Eddie Seizer, told Robert not to make anymore Taz cartoons. He thought the character was too violent. However, a couple of years later, the more Taz cartoons. Thus, four more cartoons were made and the character went on to greatness.
When the studio was closed in 1963, Robert continued directing theatrical and TV animated cartoons and commercials, for various studios, until his untimely passing in 1977. He was the consummate artist who studied to become one of the finest animators and directors in animation history. In 1984, Robert McKimson, was honored with an "Annie" award for his contribution and achievements in animation. A humble man who never "blew his own horn" and passed away all too soon. I could only wish that somehow, somewhere, he could see the joy and happiness he has brought to millions upon millions of people, not only for this and past generations, but for generations to come.
McKimson died suddenly in 1977 on his 67th birthday. He suffered a massive coronary while eating dinner.